BTS Height Comparison – Uncovering the Heights of BTS Members
Hello, BTS fans! We're about to dive deep into a topic that's stirred up more than a bit of chatter in the ARMY. That's right – we're discussing the BTS height comparison. Why is this relevant, you might ask? Although it doesn't make them any more or less talented, it's a fun tidbit that helps us feel closer to our favorite idols. So, let's get right into it!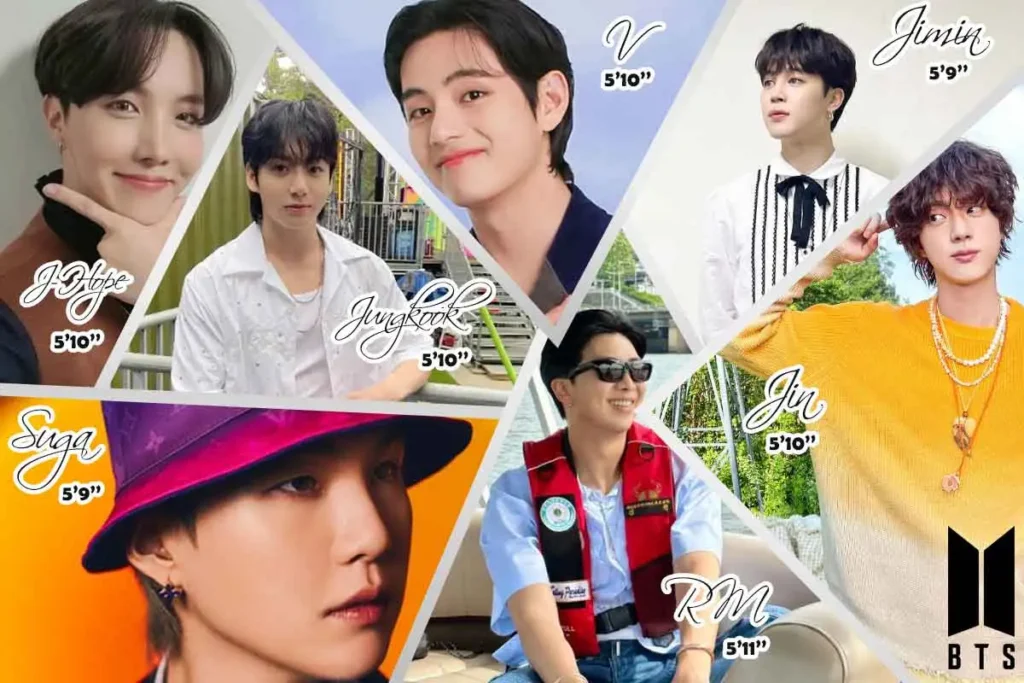 Disclaimer: The heights stated in this "BTS Height Comparison" article are not directly measured but are research-based estimates and visual impressions. They serve as symbolic gestures and may slightly differ from the actual physical stature of the members.
BTS Height Comparison with Height Chart
When you're observing BTS  (Bangtan Boys), it's hard to ignore the height differences between the members. There's a fascinating variety in the BTS height order. Our BTS height chart, which you'll find below, covers everything from the BTS height in cm to the BTS height in meters. It gives you a quick glance at the varying statures within the band. In case you're more comfortable with the imperial system, don't sweat it – we've got the BTS members' height in feet as well! Curious about how your favorite BTS member measures up? Keep reading!
BTS height in feet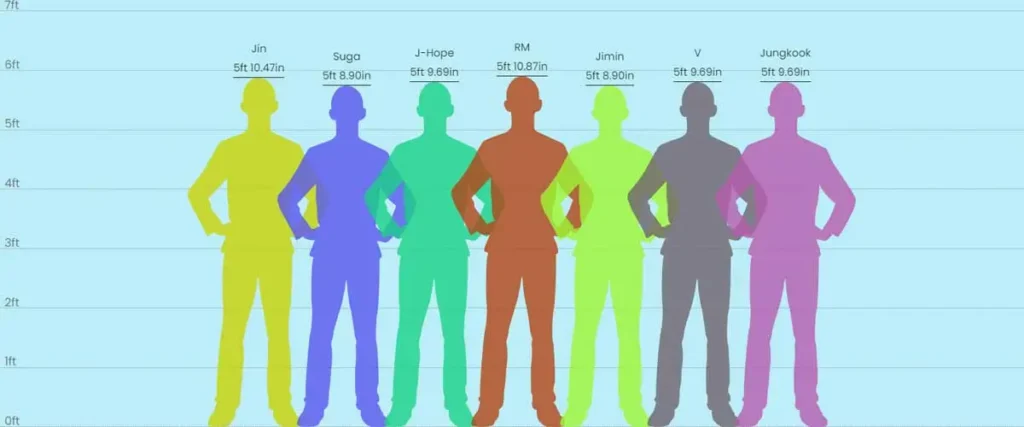 BTS Height in cm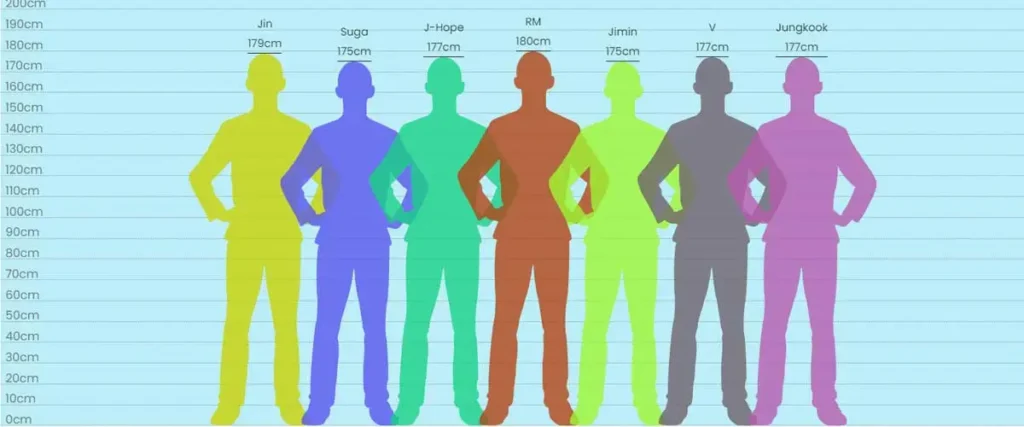 BTS Height in meters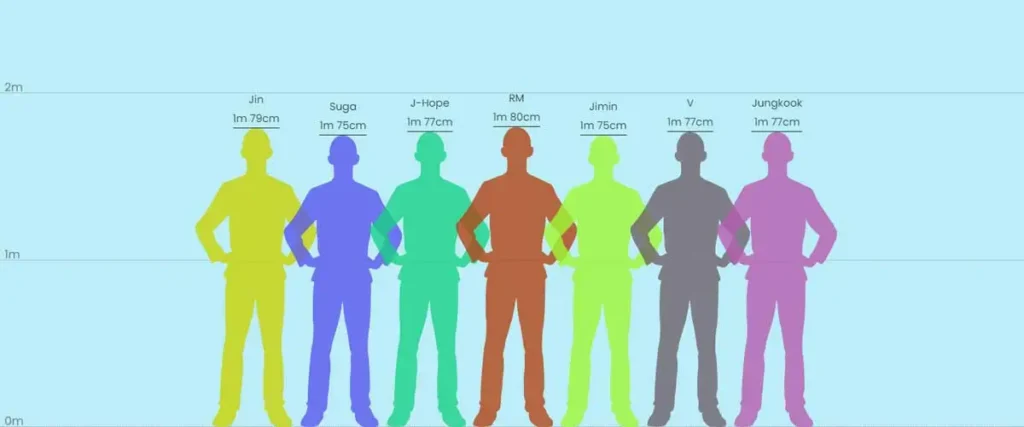 Do You Know?
A study by the Korea Times revealed fascinating statistics about the BTS ARMY. Over half of the participants were under 18 years old, and an overwhelming 86.34 percent identified as female. Additionally, 11.3 percent were male, and intriguingly, 2,962 respondents identified as non-binary. These findings shed light on the diverse and vibrant nature of the BTS fandom.
BTS Height: Tallest to Shortest
1. BTS RM Height – 5'11'' (180 cm, 1.8 meters)
Among the BTS members, RM takes the crown as the tallest one. His real name, Kim Nam-Joon, carries an imposing presence. He's the tallest among the BTS members.
2. BTS Jin Height – 5'10'' (177.8 cm, 1.78 meters)
Worldwide Handsome Jin is next in the BTS height order. With his broad shoulders and stunning visuals, Jin stands tall. His real name is Kim Seok-Jin.
3. BTS Jungkook Height – 5'10" (177.8 cm, 1.78 meters) 
The Golden Maknae, Jungkook (Jeon Jung-Kook), isn't far behind. Jungkook stands as tall as Jin. It's pretty amazing to see the youngest member standing so tall, isn't it?
4. BTS V Height – 5'10" (177.8 cm, 1.78 meters)
V (Kim Tae-Hyung), with his deep voice and charismatic presence, stands at the same height as Jin and Jungkook. Three's a crowd, but not when it comes to BTS' towering trio!
5. BTS J-Hope Height – 5'10" (177.8 cm, 1.78 meters)
Next up, we have J-Hope (Jung Ho-Seok), the band's main dancer, and their personal ray of sunshine. J-Hope confidently stands a touch taller than Jimin.
6. BTS Suga Height – 5'9" (175 cm, 1.75 meters) 
Yoongi (Min Yoon-gi), better known as Suga, is not just the band's lead rapper but also an incredible producer. Suga stands a touch taller than Jimin and J-Hope.
7. BTS Jimin Height – 5'9" (175 cm, 1.75 meters) 
Meet BTS Jimin, the dynamic dance maestro! Jimin's height is a reflection of his immense talent and larger-than-life charisma. His electrifying performances and captivating charm effortlessly command attention on stage. Jimin proves that it's not just about the numbers – it's about the star quality that shines through in every move he makes!
8. BTS Manager Sejin Height – 6'2"
Manager Sejin, the man behind the scenes, stands tall. While not a performer, his towering height makes him a valuable part of the BTS height comparison.
BTS Average Height 
Now that we've run down the individual heights, let's look at the BTS average height. After adding them all up and doing a quick calculation, we find that the average height of BTS members is approximately 5'9". That's quite tall, isn't it?
What is BTS 'Ideal' Height? 
When it comes to their ideal height, the members have different views. Some wouldn't mind adding a few extra inches while others seem to be quite content with their height. The ideal height is a personal preference and all the members seem to wear their heights well. After all, it's the towering personality that matters, right?
FAQs
There you have it – a comprehensive BTS height comparison. Looking beyond the numbers, the real height of BTS members is measured not in inches or cm, but in the stature they hold in the music industry and the hearts of millions of fans worldwide. Their unique personalities, diverse talents, and unmatched synergy make them a true force to be reckoned with. And honestly, that's the most crucial aspect of any BTS height comparison.
As we've had fun comparing the heights of our favorite BTS members, why not extend this enjoyable exploration to other realms such as anime characters or celebrities? If you're curious about how your height compares to BTS, feel free to use our handy online tool for a bit of fun! Until next time, keep enjoying BTS and their music, and remember – you're perfect just the way you are!